by Joao Vianna
New York, September 9, 2010 - Over 1.5 million people attended the 26th Annual Brazilian Independence Day in New York City to commemorate the 188th anniversary of Brazil on September 7, 1822. Every year New York comes alive with parades, dancing, singing and eating; Brazilians gather in the streets dancing and waving the national flag, streamers and banners to inaugurate this important holiday and just having a great time.
The center of the party is 46th Street, which on a normal day is a typical midtown side street. The only item giving away its uniqueness is a street sign "Little Brazil Street" but each for the annual celebration of Brazilian Independence Day, the street is transformed as the center of a humongous party encompassing 25 blocks surrounding 46th Street.
Two massive stages erected on 6th avenue held the performances of popular Brazilian entertainers while Globo TV televised the show to Brazil and 135 other countries. At the same time Vejatv.com, the primary web television of the Brazilian community in the United Sates, conducted hundreds of interviews with the joyous revelers and surprise guest star of the event, Carlinho Brown.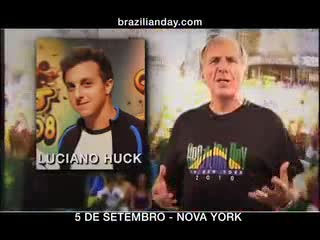 Brazilian Day organizer João de Matos is an established icon in the Brazilian community. He is the owner of a succesful Brazilian-inspired business, including the upscale Plataforma restaurant and BACC a travel agency catering to the Brazilian community. He explained that the party loses money every year—this year he says it cost $500,000—he feels he owes it to the Brazilian community.
"They work the whole year, they have problems like everybody else," de Matos says. "If they can't go to Brazil, OK. I want one weekend a year to bring Brazil to them."
The headliners this year are the ultra-popular country duo Zézé di Camargo and Luciano. TV personality Luciano Huck will be the MC, Carlinho Brown turned up as a surprise guest to the pleasure of all.
In accordance with the celebration, each year a prestigious Award is given to people who have made important contributions to Brazilian Culture. This year Pat Philips and Ettore Stratta are being honored. At a large private gathering at the prestigious Plataform Restaurant, important persons involved in the Brazilian Day Events, were presented this Award in recognition of their many years of presenting and recording Brazilian music on the highest level. Their honrees' first major event was 1989 starring Antonio Carlos Jobim at Carnegie Hall along with his Band from Brazil, Gal Costa and Dori Caymmi.
Philips & Stratta have been dedicated to Brazilian music ever since and presenting it in the highest form and in unique programs bringing pride to the Brazilian community and spreading the joy of this music to the public.
They continued to produce major concerts at Carnegie Hall and included top Brazilian artists Gal Costa, Gilberto Gil, Ivan Lins, Eliane Elias, Joyce, Simone, Leila Pinheiro, Oscar Castro-Neves, Joao Bosco, Jacques & Paula Morelenbaum...and more. They presented them alongside major US artists such as The Orpheus Orchestra, Branford Marsalis, Toots Thielemans, Herbie Mann, Al Jarreau, and many others to showcase Brazilian music in the most interesting and virtuosic settings.
"Symphonic Bossa Nova", the CD Produced and Conducted by Maestro Stratta is regarded as probably the best symphonic CD of Brazilian music of all time. It was performed by The Royal Philharmonic Symphony Orchestra of London with Guests, Al Jarrreau, Dori Caymmi, Gary Burton, Hubert Laws, Mike Renzi, Claudio Roditi, Tom Scott..again bringing together both Brazilian and American artists in the highest level of presentation. Maestro also conducted The Royal Philharmonic in Sao Paulo, the music of this CD.
Philips & Stratta created 'BossaBrasil', a Festival at the top music venue Birdland, once again showcasing Brazilian talent with artists such as Leny Andrade, Emilio Santigao, Marcos Valle, Dori Caymmi, Romero Lubambo, Cesar Camargo Mariano, Joyce, and more which is happening this week, August 31 - Sept. 4th, featuring the very talented LENY ANDRADE (Reservations, at Birdland, 212 581 3080).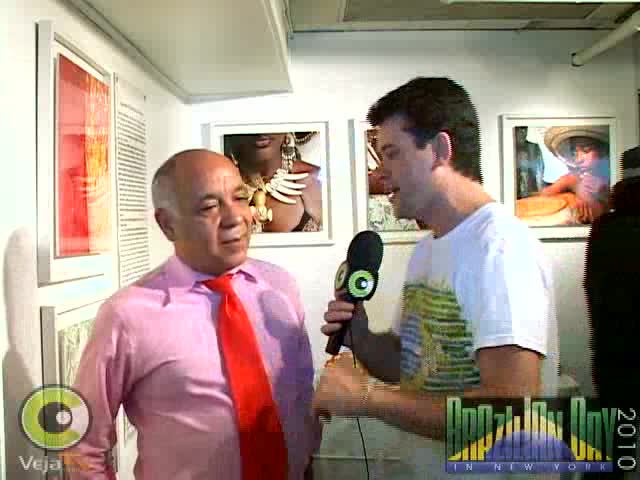 Their relationship with the brilliant Jobim is ongoing with a project in the works to record his music with a major symphony orchestra. However he passed away before it was realized. Other upcoming plans include projects with Eumir Deodato, Marcos Valle, and more.
Well this year's party is hardly over and Edilberto Mendes, the party's executive organizer, is already on his cell phone planning Brazilian Day 2011.


Take a look in our Youtube Channal Vejatvbroadcast